Round 2
Thanks to everyone who filled out the survey earlier this month – I was a bit overwhelmed with data!
Below is a really short questionnaire – literally three questions – that will go towards helping me complete my current research.
Context
As part of my ongoing Open University studies, I'm currently working on the final project for a design module. I've chosen to look at recycling systems.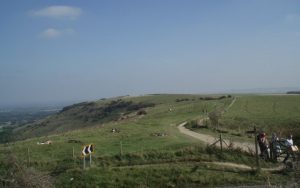 We're thinking about parks here – specifically, big national parks. Our project is based on Ditchling Beacon in south-east England, but if you're in Norn Iron, thinking about walking in the Mournes or the Sperrins will get you to the same place.
In that context, I'm working on a solution to help encourage visitors to separate and dispose of recyclable waste in a helpful and straightforward way.
Three short questions
Below is a table with pictures of 13 different recycling bin designs. These are all real recycling points in real national parks – mostly the USA and Australia.
Please have a look through, and then consider the three short questions that follow. Thank you!
| | | |
| --- | --- | --- |
| 1. | 2. | 3. |
| 4. | 5. | 6. |
| 7. | 8. | 9. |
| 10. | 11. | 12 |
| 13. | | |